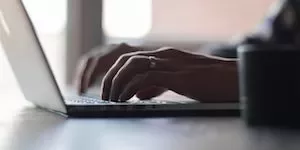 In light of some recent incidents in the blogosphere, we're beginning to wonder. Google has never said outright that they are anti-SEO, but there's a lot of evidence to support this theory.
Here are three areas in which we see Google's desire to be the arbiters of everything SEO starting to change the scene for online content creators:
Guest Blogging
Recently, Google's Matt Cutts revealed in a rather vague Tweet that they "took action" against someone from a big guest blog network, citing "spam risks of guest blogging" as the rationale. A little later, we found out that the target was Ann Smarty, a frequent guest blogger and SEO consultant who runs MyBlogGuest.com.

Ms. Smarty maintains that the move was a publicity stunt more than anything—an attempt to "get more people scared." The trouble it, it might have worked, and it may mean guest blogging will be increasingly phased out in the future.

Link Building
If you've ever received a notification that said, "We've detected that some of the links pointing to your site are using techniques outside Google's Webmaster Guidelines…" chances are, you're familiar with Google's crackdown on link-building. The potential monetary loss for businesses big and small who rely on link building to sustain their natural search results is significant—estimated at $5 million per month for some companies.

Check out these helpful words of advice about how to proceed with caution as you carry on this practice with your own content.

Keyword Optimization
According to Search Engine Land, Google wants to place a penalty for sites that are "over-SEO'd" meaning that they have less-than-rich content but successfully optimize keywords.

They quoted Google's Matt Cutts as saying: "…we try to make our relevance more adaptive so that people don't do SEO, we handle that, and then we also start to look at the people who sort of abuse it, whether they throw too many keywords on the page, or whether they exchange way too many links, or whatever they are doing to sort of go beyond what a normal person would expect in a particular area."

Basically, in an ironic show of content supervision, the Google Bot is out to make sure that "normal people" have proper representation online.
As much as we sympathize with and understand Google's priority of championing rich content over spam and discouraging the practice of what they call "manipulating a site's ranking," the resulting actions they're taking against content creators and SEO feel more forceful and restrictive than necessary. Hopefully, as with content of all types, the cream will always rise to the top, even without leveling harsh penalties on the rest.