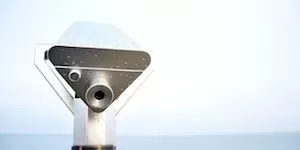 GoEpps is all about generating qualified leads for its customers, and one way that we do that is through online videos. After we started working with Wright Manufacturing we approached them with the idea of creating videos for the site. They were hesitant at first because of the misconception that manufacturers only do TV-quality commercials.
However, YouTube is the second largest search engine on the Internet, after Google. The Wright Manufacturing YouTube channel now has more than 50,000 views, making it one of our most valuable assets.
Here's how to use this tool to generate more leads:
Step 1: Start doing something, anything.

The hardest video to make is the first one. Instead of focusing on your lack of equipment, creativity or video skills, take the very first step and work up from there. Take out your iPhone and record a video of your company's history or a "How To ___" piece. YouTube is free and it's available, and most importantly, people are using it. When you hesitate to get into the game, the younger and faster players are naturally going to move ahead of you, because they don't have the inhibitions that you have. Take the first step and move forward.
Step 2: Take some time to analytically look at the topics that are getting the most traffic on your website.

What are people searching for that leads them to your site? Not just in video views but in the natural search engaging traffic for the site. For example: In our first three months with Wright Manufacturing, we could see patterns in information that were leading people to the website. We capitalized on this by using the most popular material to write a lot of articles and make a lot of videos. This gave us a large footprint on the Internet in the commercial mower space.
Step 3: Do more of what's working.

Use the data that your site generates to figure out what's working and what's not working. Throw out what doesn't work, and do more of what works. If you have a favorite video, but no one is watching it, then re-evaluate your strategy and move forward with what works. For example, we started using a call to action in our YouTube channel titles. We offer a phone number in the video description, so that the viewers can move straight into qualified, exclusive sales leads.
The fact is that we're in a post-website online marketing era. The website is part of the recipe, but it's not the only ingredient; it's not the only means of interacting with the audience.
In all of our marketing channels (YouTube, Facebook, Twitter, etc.) we generate direct clicks that call customers to action. It's not just about getting them to the website, it's about meeting the customer wherever they are.