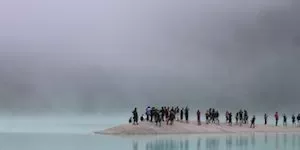 When people find out what I do, I get a lot of questions. A recurring one lately has been from existing businesses who feel their marketing is lacking, and they'll wonder aloud to me if they should build a more sophisticated and internal Internet marketing team.
My answer is always straight forward: If you're NOT an Internet company, then no. You'd be taking your profitable business model and focusing energy into something you're not experienced to handle. This is what you'd be getting yourself into:
High Turn Over Rate:
Young IT specialists are like top-tier college athletes up for the draft. Everybody wants them. These kids are getting recruited with serious offers, and you have to do a lot to keep up with them. 18 months is the average loyalty rate for a Chief Marketing Officer, and lower-down positions have an even faster turn over rate. Headhunters from bigger companies with larger salaries are calling these guys, trying to get them to switch teams.

They Aren't Cogs in the Machine:
Generally speaking, what you're looking for is someone to help with the brand that you've already decided on. Most people in the Internet-marketing field have a lot of creativity and drive, and these guys want to be someplace where they can be seen as entrepreneurs and not just "the help."

I go on to tell the interested party that the best way to improve your Internet marketing is to hire an agency, like GoEpps, to perform the work. In the past 5 years, the Internet marketing agency industry has become much more sophisticated and granulated. We're able to provide services by the need, instead of a hard-to-digest lump package. What this means is that your company can hire for any combination of web development, SEO, content writing, or lead generation. By choosing just what you need, you eliminate extra costs.
This is a more streamlined approach to Internet marketing. The services we offer at GoEpps remove the need to build a team from the ground up, and allow you to focus that energy elsewhere.