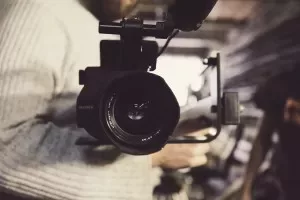 Planning is key to making any type of operation run smoothly. Chefs have prep stations and recipes, teachers have a curriculum and schedule, and builders have architects and blueprints. If video is part of your online marketing strategy, your video shoot day needs to involve this same type of planning and organizing. Online video marketing is vital to your overall marketing plan, but just as vital is the planning and organization needed to get the best results.

Here are our top five ways that we at Five Points Studios stay organized:
Equipment: While you may have all of your equipment gathered, it needs to be prepped shot by shot. This includes a shot list and all coordinating equipment, such as lights, stands, backdrops, etc.

Human Component: Gathering equipment and creating your shot list may seem easy compared with organizing all of the people needed to make your video shoot day run smoothly. Be sure that each person involved knows their specific duty, whether they are voice-over talent, running a camera or equipment, or will be the on-screen talent. You will also need staff to oversee all of these people. This staff can provide snacks, drinks, and a place for mental breaks. Shoot days can be long, but if everyone has a place to rest and recharge, they can maintain the energy needed for the whole day.

Location, location, location: You've found the ideal location for your shoot, but have you taken the time to really explore? Visit your location at different times of day to get to know how the light changes and how noisy it may be at different times of day. If you are shooting downtown near an historic church, you may want to know that the church bells will ring every hour on the hour. These are details you need to know before shoot day so that you can easily work around them rather than become stressed as they happen unexpectedly.

Creative Inspiration: Visiting your location a few times is not only necessary for planning, but can be great source of creative inspiration. Thinking through your shot list while at your location can lead to new ideas that may not happen while sitting in the office.

Stuff Happens: You can plan, plan, and plan some more, but remember that stuff happens. You can be prepared for a lot of it, but not all. Doing the four steps listed will remove many variables ahead of time, allowing your shoot day to be 95% perfect. That 5% accounts for things that we just can't predict.

Five Points Studios uses a 50 point checklist in order to prepare for and deliver a successful video shoot day. In addition, we work with our parent company, GoEpps Views Service in order to publish your video for effective search engine optimization.