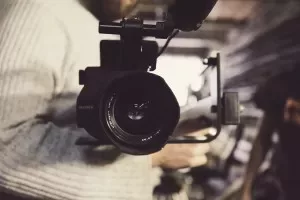 Video is expensive to produce, but there is a lot of opportunity to create content with video for better search engine optimization. Using video for search engine optimization is just another great way to increase your audience on the web. Think of video for SEO as a video style blog post, not a company branding video.
Producing video as part of your digital marketing strategy can be expensive, often thousands of dollars for just a few minutes of video.
But there are some simple ways to produce videos at a lower cost.
Keyword Focus

Developing a single focus for a video cuts down drastically on production costs. For example, if you are a local painting company in Nashville, your focus keyword would be "painting contractor Nashville."
Using a good title, tags, and adding the location to your keyword will help with organic search engine optimization. These are great online marketing strategies that allow users to find you easily when searching.

Low-tech production style

In addition to keyword focus, using a low-tech production style for your digital content creation will offset costs without sacrificing the benefits of increasing search engine optimization.
Using the example above, you could produce a video called "10 Tips for Selecting a Painting Contractor in Nashville."
This can be a text only video with a simple voice over. Using a PowerPoint style video gets to the point, allowing your audience to easily view and absorb this information.
You can hire a professional video resource to add a voice-over with your text.
Even though your video will lack live action or animation, you will be providing helpful information to potential clients at a fraction of the cost of a live video. With the proper keyword focus, your video will show up well in searches.

Use cost-effective solutions to create your audio track

Voice-over tracks can be done in-house. If you have the time and resources, this will certainly be cost saving.
Using a resource like Voices.com allows you to find the right voice at the right price for your video, no matter your production budget.

Remember, these videos are simple and are made to increase your search engine optimization while using digital content. They are blog posts in video format. Producing many at one time is a timely and inexpensive way to bring in a new audience and potential clients.