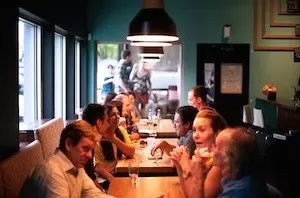 We recently had lunch with the head of a nationally recognized nonprofit organization. Naturally, the conversation steered toward what really matters when you're trying to make an impact with your company's message.
It seems like many factors could fill in the blank as the "right" answer: strategic funding campaigns, media savvy, education, or even celebrity endorsements.
Surprisingly, this inspiring world-changer gave a one-word answer when asked for the most important ingredient for success: Relationships.
The internet age of constant connection keeps relationships of all kinds at the forefront of our minds. We get that friendly connections provide personal value, yet we don't always pay enough attention to the benefit of quality relationships for our success in business. Our work with lead generation campaigns and our clients have illustrated the same truth: good relationships matter. But we've also seen that it's not just increasing your friend count or a tally of "likes" that helps our businesses grow.
How do we approach relationships differently?
We Maintain Connections with Our Own Vendors
Our team of writers don't have to endure the awkwardness of cold-calling a client for information. Why? Because we get to know our people and establish familiarity between them and each client on the front end.

If our writers are going to represent our clients well, it's essential to initiate dialogue before jumping into the nitty-gritty of marketing their products or services. Having a friendly rapport with the people behind the products is as valuable as any other form of research.

We Develop Teams with Staying Power
Our video production team stands out as a great example how positive relationship dynamics can make a group succeed. The video team is comprised of three different skilled professionals that are seamlessly integrated with one another because they share the same purpose and vision.

The team members show one another mutual respect by communicating clearly, sticking to deadlines, and genuinely enjoying each other's company. It's exciting to see how these traits of healthy collaboration clearly benefit our video team members as well as our clients.

We Stay Up-To-Date in Our Relationships with Platforms
Because we utilize outside platforms in our paid search marketing and advertising, we occasionally encounter miscommunications that could potentially cost us significant time and money. One such situation happened last year when Google made a mistake with the video placement in one of our campaigns.

Suddenly, we saw a dramatic cost spike and knew that something had gone wrong. Fortunately, our relationship with Google enabled us to quickly contact them, communicate about the discrepancy, and avoid both unnecessary charges and stress-induced headaches. Our regular interaction with Google ensured that they knew who we were and helped them fix the problem before any damage was done.

We Prioritize Great Relationships with Clients
As we interact with clients, we're committed to frequent follow-up communication. Everyone feels more connected to the process and optimistic about the next steps when they're kept in the loop with regular updates. Also, it helps us ensure that we follow-through in the way that's best for our customer.

The best way to avoid a mistake in implementation is to keep the conversation alive. Honest and direct communication helps build trust between us and our clients and lets everyone collaborate more effectively.

Ultimately, relationships thrive in a culture of openness and positivity. If we're going to deliver a valuable service for our lead generation clients and gain their trust and confidence, our first step is reaching out to others and initiating conversation. It's from there we can start to see how beneficial relationships are to every area of business.